SBMT Alumni Corner: Greg Willis
By Marbella D. Alvarenga Cuhcillas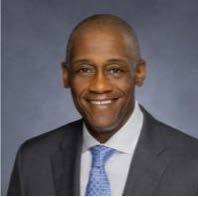 Greg Willis is a School of Business, Management & Technology alumni with a bachelor's degree in computer science and an MBA in marketing from Miami University in Oxford. Mr. Willis is currently working at Linkedin as the Vice President of sales and marketing, managing a 1.8-billion-dollar online sales organization of more than 400 people. Prior to working at Linkedin, Mr. Willis was a General Manager and P&L owner for the 1.2-billion-dollar wearables and mobile enhancements at Samsung. He also held a progressive sales and marketing leadership position at PepsiCo, Procter and Gamble, Hewlett Packard, and Infosys Limited Consulting. In addition, Mr. Willis values transforming, leading, and giving back to the community. While at PepsiCo, he assisted in founding PepsiCo Feeds America, being one of the nation's largest hunger-relief organizations.
Attributes to Succeed
Mr. Willis believes there are three main attributes to a successful businessman or businesswoman. The first attribute is discipline, which is about staying focused and being consistent. Focus on getting things done before anything else. The second attribute would be compassion and empathy; you must be able to relate and connect to others and understand them. You should also know how to demonstrate these attributes depending on your relationship with them, whether you work for them, or they work for you. Finally, having "grit" means being able to work through challenges with a passion and realizing it's not about how many times you get knocked down but how many times you get up.
How to Remain Motivated
When interviewed, Mr. Willis recommends having a plan or purpose bigger than yourself. His point is that having a purpose or plan helps you take personal interests out of the picture because your responsibilities and actions affect yourself and your team, family, and support system. This enables you to focus on the bigger picture and how you are impacting those around you.
Advice to Freshmen and Sophomore
Mr. Willis advises students to take advantage of resources like professors, alumni, coaches, and support services. While you may think you have it all figured out, don't try to do it all by yourself, feedback can be very valuable. It is important always to remain teachable no matter how much you may know. Always be open to opportunities; they will help you figure out what you want to do; even if you already have a solid plan, you must be open to new ideas. They can be great learning experiences.
About the Author:
Marbella D. Alvarenga Cuchillas began attending Saint Augustine's University (SAU) in the fall semester of 2020 and is currently a senior in the Early College Program. She would like to pursue a Bachelor's Degree in Business Administration at SAU after graduating from the Wake Young Women's Leadership Academy. "Fortunately, I have been given the opportunity to intern at the School of Business, Management & Technology (SBMT) as an early college student and future Falcon."