The Arrival of Virtual Sports at SAU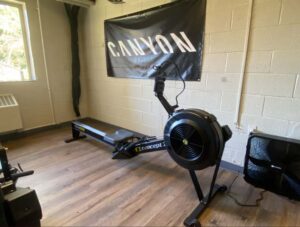 By Marbella D. Alvarenga Cuhcillas
Virtual Sports have arrived at Saint Augustine's University, School of Business, Management & Technology! Now you may be asking what are virtual sports? 
Virtual sports are esports that require similar competence to real sports. The skills needed for both are transferable between the two. Virtual sports include advanced algorithms which are applied to determine the outcome through feedback using virtual technology. 
A new esports curriculum has been integrated into the SAU School of Business, Management &Technology, opening up a new virtual technology suite. There are four types of virtual equipment in the suite as of right now: golf, cycling, rowing, and motorsports. SAU is at the forefront of virtual sports, and we are a charter member of The National Collegiate VirtualSports Association. As part of our cycling program, SAU is already a virtual competitor.
Those interested in finding out more about virtual sports and how to get involved can sign up by clicking on this LINK to apply for virtual sports. 
For any further questions you may contact Dr. Janas by email at mjanas@st-aug.edu.
About the Author:
Marbella D. Alvarenga Cuchillas began attending Saint Augustine's University (SAU) in the fall semester of 2020 and is currently a senior in the Early College Program. She would like to pursue a Bachelor's Degree in Business Administration at SAU after graduating from the Wake Young Women's Leadership Academy. "Fortunately, I have been given the opportunity to intern at the School of Business, Management & Technology (SBMT) as an early college student and future Falcon."