SAU Receives Donation for Student Emergency Fund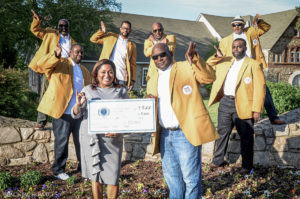 Saint Augustine's University (SAU) has been actively engaged in managing the relief efforts for students impacted negatively by activities related to the Coronavirus. The University is currently assisting students financially, with laptops, travel, food and shelter. As of today, SAU has received a donation of 10 laptops from the Xi Mu Mu and Kappa Epsilon Chapters of Omega Psi Phi Fraternity, Inc. and the Triangle Park Chapter of the Links, Inc. The University is thankful for their financial donations and lap tops for our students.
Additionally, SAU recently launched an emergency fund campaign that is open to alumni, businesses, organizations and other community stakeholders to contribute towards our students unmet needs. The Student Emergency Fund assists with their expenses. We have been able to assist several international students and those who needed laptops through alumni and community support.
For delivery arrangements, contributors can call Mrs. Sheryl Harris-Ximines at 919.516.4343 or email sximines@st-aug.edu. Monetary donations can be made by phone by calling 919.516.4092, via Text 2 Give at 919.373.6799 or online at www.st-aug.edu/giving. Checks or money orders can be made payable to Saint Augustine's University, Memo: Emergency Fund and mailed to the following address:
Office of University Advancement and External Affairs
Saint Augustine's University
1315 Oakwood Avenue
Raleigh, NC 27610