SAU Honors Alumni in Healthcare with Virtual Concert Featuring Grammy Award Winner Kirk Whalum and Songstress Barbara Weathers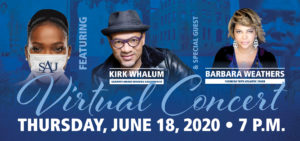 Saint Augustine's University and the rest of the world continue adhering to social distancing guidelines due to the COVID-19 pandemic. We will honor our amazing alumni serving on the frontlines of this global health battle with a virtual fundraising concert. The Division of University Advancement and External Affairs invites the entire Falcon Nation and national stakeholders to "Rhapsody in Blue, a Salute to Our Legacy in Healthcare, Thursday, June 18, 2020. 
There will be special appearances by Grammy-award winning saxophonist Kirk Whalum, songstress Barbara Weathers (formerly of Atlantic Starr), and Bishop Michael B. Curry of the Episcopal Church. This event is scheduled to air live on SAU's official Facebook and YouTube.
This concert is free. Donation prior to and during the program are encouraged.