Mother and Daughter Become Recent SAU Graduates Together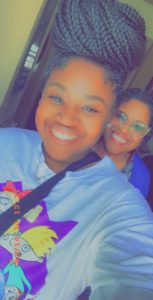 On May 15, 2020, SAU celebrated our graduating seniors with a virtual commencement. SAU is proud of the accomplishments and perseverance of all of those who have fought through adversity to obtain their degree. Among our graduates were Denise Scott and Ronesha Scott, mother and daughter who enrolled at SAU at the same time. 
The inspirational story of these particular graduates exemplifies what it means to Exceed Expectations. Despite a tragic accident that happened to a family member, they both persevered through grief and soared to the finish line of their undergraduate degree.
Denise Scott had this to say, "We experienced a terrible tragedy that caused unimaginable pain. I had to be an example of Christ. This was an opportunity to put God on display for His glory! There is hope in Jesus! Be determined to never give up, persevere in faith and watch the move of God. "
Ronesha Scott's perspective is quite amazing as well, "When my sister died, I was in a state of depression, not having a care in the world (including furthering my education) due to heavy grief. I went only to support my mom in enrolling, and ended up enrolling myself. My mother was my sense of encouragement. It wasn't an easy journey but with the help of God, we got through day by day." 
Congratulations ladies! We wish the best for you in this new chapter of your lives.