SAU Early College Program Student Selected as a Morehead-Cain Scholar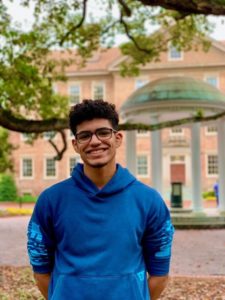 Saint Augustine's University is pleased to announce that Luis Sanchez, a senior in the Early College Program at SAU, has been selected as a Morehead-Cain Scholar. Fewer than 4 percent of this year's nominees were selected for this unique opportunity.
Established in 1945, the Morehead-Cain was the first merit scholarship program in the United States. Their purpose is to identify and invest in promising leaders, challenging them to have a profound impact on the people and pursuits that define their lives. For more information about the Morehead-Cain, please feel free to contact us or visit their website at www.moreheadcain.org.
We are very proud of Luis for exemplifying the SAU motto of "Transform. Excel. Lead." The Dean of Students for Wake Young Men's Leadership Academy, Michael Citrini, had the to say "Our faculty and staff at Wake Young Men's Leadership Academy – as well as Luis' peers – are all very proud of Luis and all of his academic and personal accomplishments."
The Saint Augustine's University Early College Program is comprised of two separate same-sex leadership academies.  The Wake Young Women's Leadership Academy and the Wake Young Men's Leadership Academy converge onto the campus of Saint Augustine's University to make the Early College Program.
The program is host to a junior and senior class who are dually enrolled in high school classes and college courses while on campus.  Students have the option to earn college credit that can be used to enroll into another institution or into Saint Augustine's University.
Read more about the Morehead-Cain Scholars here.