Freeman of SAU wins CIAA Men's Cross Country Individual Title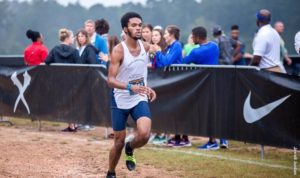 RALEIGH, N.C. (Oct. 25) – Baron Freeman (Fr./Hampton, VA) of Saint Augustine's University won the CIAA Men's Cross Country 8K Championship at Green Hill Park in Roanoke Valley, Va., on Thursday.
Freeman, the CIAA Men's Runner of the Year, crossed the finish line first in 25:52.6, almost a full minute ahead of Tyreece Huff of Virginia State University. Huff placed second in 26:36.5 and Mike Lagat of Shaw University was third in 27:12.6.
The Falcons, led by Freeman, took home the men's second-place team trophy. They scored 86 points to beat every team except Virginia State University. The Trojans scored 56 points to repeat as conference champions.
Virginia Union University was third with 103 points and Lincoln (Pa.) University was fourth with 119 points. Thirteen teams competed in the men's 8K race.
Freeman and Robert Edwards (Fr./Pembroke, Bermuda) made the All-CIAA team for finishing among the top 15 runners. In addition to Freeman's time, Edwards (Fr./Pembroke, Bermuda) placed 10th

 in 28:34.3.
Overall, five Falcons finished among the top 35 runners. Shaquille Dill (Jr./Pembroke, Bermuda) was 20th in 29:58.6. Robert Walker (Fr./Newburgh, NY) finished 21st in 30:06.7 and Gregory Matthews (Fr./Memphis, TN) placed 34th in 31:32.3.
Click
HERE
for full results.