Tuttle Public Health Community Center Construction Recommences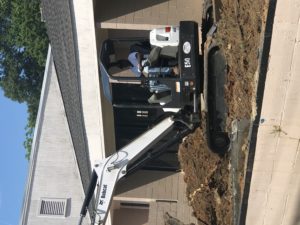 We are building at Saint Augustine's University! After an almost two year delay in construction, Interim President Dr. Maria A. Lumpkin and Dr. Derrick Sauls focused on re-energizing this project in October. With the help of Councilman Corey Branch, the City of Raleigh granted the university permits needed to complete Tuttle Public Health Community Center. The project is funded by a Student Aid and Fiscal Responsibility Act (SAFRA) Grant.
The SAFRA grant is awarded through the Historically Black Colleges and Universities (HBCU) Program of the Department of Education. The purpose of the Title III/SAFRA program is to assist HBCUs in establishing and strengthening their physical plants, academic resources, and student services to continue to fulfill the goal of equalizing educational opportunity.
The estimated completion date of this project is July 2020.