SAU's Anthony Jeffries Named CIAA Sports Information Director of the Year
Veteran Sports Journalist receives honor for the third time since 2008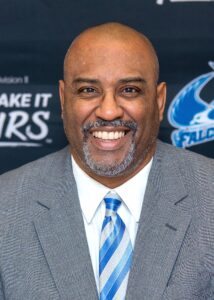 The reimagining of Saint Augustine's University (SAU) 's Athletic Department now includes the recognition of one of its long-time storytellers. Veteran Sports Journalist Anthony Jeffries recently was named 2021-22 CIAA Sports Information Director (SID) of the Year at the CIAA Spring Meeting Awards Ceremony in Baltimore on May 17, 2022. The league SID honor is the third for Jeffries, the 2007-08 and 2011-12 recipient.  
"I was surprised and elated simultaneously," Jeffries said. "I would like to give a special thanks to SAU Athletic Director David Bowser. His vision for me and the SID position led to this award."  
In his 17th year as sports information director at SAU, Jeffries serves as the media contact person for the athletic program. Since joining the Falcons' athletic staff in August 2005, he has been responsible for providing statistics, game stories, and press releases to the media for each of the university's 12 sports. In addition, Jeffries coordinates media interviews in addition to producing athletic publications such as posters and schedule cards. 
"I also want to thank Associate Athletic Director Leon Carrington for his guidance," Jeffries said. "The Marketing & Communications Team led by Vice President Dr. Carolyn Carter and Associate Vice President Demarcus Williams along with the social media support from the Chris Williams PR Team were very instrumental in the success of our Sports Information Department." 
In 2017, Jeffries won the Excellence in Communications Award from the U.S. Track & Field and Cross-Country Coaches Association (USTFCCCA) for outstanding coverage of the internationally renowned SAU track and field program. In addition, he earned the national honor in the NCAA Division II category. Jeffries' award-winning experience includes over 30 years of sports journalism in print media with stints at the Smithfield Herald, The Chapel Hill News, The News & Observer in Raleigh, NC, and the Greensboro News & Record. 
"My name may be on the plaque, but it wasn't a one-person show," Jeffries said.