SAU Wins the 6th Annual HP HBCU Business Challenge
Saint Augustine's University (SAU) won the 6th Annual HP HBCU Business Challenge, which ended on October 27, 2022. Each year, approximately 30-40 HBCU Business programs partake in this annual Business Challenge.
"Winning this challenge is the evidence of SAU's leadership in adapting to dynamic environments by solving the problems in the rapidly changing technology industry," said SAU President Dr. Christine Johnson McPhail. "I commend Dr. Sapp and our students for their dedication, and HP for creating a platform showcasing how SAU's mission aligns with their commitment to diversity."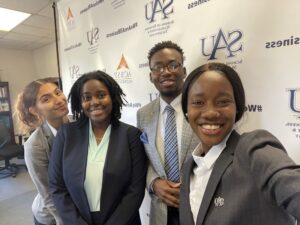 The Business Deans from the National HBCU Business Deans Roundtable member institutions nominate the teams. Dr. Van Sapp, Dean of the SAU School of Business, Management, & Technology, selected the SAU team of students: Ashley Weekes, Breanna Dorway, Marbella Alvarenga, and Emmanuel Bryant. In addition, Bernard Zandonda served as the student assistant coach.
"This victory proves that with the proper motivation and effort, SAU students can compete with anybody," Dr. Sapp said. "Our faculty are skilled at preparing our students for success."
The winning idea consisted of a one-of-a-kind Hybrid Optimum Work Package presented by SAU. It was unique as it touched on all security, collaboration, and accountability aspects. With SAU making the top five twice in the last three years, they finally broke through to take the first-place position.
"One thing this challenge has taught me is never to give up," said Ashley Weekes, a Junior Accounting major. "I was a part of last year's team, and we did not make it to the top five. However, by working hard work and staying persistent, you can achieve anything."
This year, the case was presented to the teams concentrating on the Future of Work, primarily focusing on Hybrid Work and its impact on Tech companies. On October 27, 2022, SAU's team made the finals with four other schools: Jackson State University, Morgan State University, South Carolina State, and Alabama State University. After weeks of solid preparation, SAU emerged at the top with astonishing content and delivery that wowed the judges.
"This challenge helped me learn perseverance and to always think out of the box," said Breanna Dorway, a Junior Business Administration major.
As first-place winners, SAU students receive computer-related prizes and mentorship from HP executives.
Click here to learn more about the HP HBCU Business Challenge.
About Saint Augustine's University
Founded in 1867 by the Episcopal Diocese of North Carolina, the mission of Saint Augustine's University is to sustain a learning community in which students can prepare academically, socially, and spiritually for leadership in a complex, diverse, and rapidly changing world.