Saint Augustine's University Reports Another Consecutive Year with an Enrollment Increase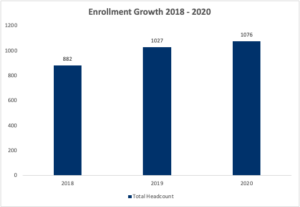 (Raleigh, NC) – Saint Augustine's University (SAU) is pleased to report that they have another consecutive year of enrollment growth. In 2019, SAU saw a 16.4% increase in enrollment, and in 2020 there has been a 5.3% increase over last year. The University has experienced a significant increase of 23% in growth since 2018. This growth includes the enrollment of Early College Program students garnered through a partnership developed with the Wake County Public Schools System since 2018. The University is pleased with the program's success and growth of 20% since 2018.
About Saint Augustine's University
Founded in 1867 by the Episcopal Diocese of North Carolina, the mission of Saint Augustine's University is to sustain a learning community in which students can prepare academically, socially and spiritually for leadership in a complex, diverse and rapidly changing world.