Saint Augustine's University Names David Bowser Interim Athletics Director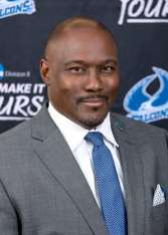 Raleigh, NC — The Saint Augustine's University (SAU) athletic department announced Wednesday, July 1, that David Bowser has been named the Interim Athletics Director. He replaces George "Pup" Williams who had an illustrious career at the University for over 52 years. 
Bowser also serves as the head football coach at SAU with impressive credentials from many years of experience in the profession. He just completed a highly successful 20-year stint at Fayetteville State University, where he was the longest tenured assistant among all coaches at the CIAA school, regardless of the sport. During his time at Fayetteville State (FSU), Bowser helped the Broncos emerge as one of the top football teams in the CIAA. 
Bowser was an assistant coach on Bronco football teams that won CIAA titles in 2002, 2003 and 2009. In 2019, the Broncos captured their third consecutive Southern Division crown and made their third straight appearance in the CIAA Championship Game. 
"The University is pleased to have Coach Bowser take on this role and we look forward to him making a significant impact with our scholar athletes especially during this time of global transition in sports," said Dr. Maria Lumpkin, Interim University President. She added, "Coach Williams has been an integral part of the University for over 50 years and we appreciate his selfless dedication as well as his willingness to place the Falcon Nation on a worldwide platform throughout his celebrated career."