#SafeFalcons to Host April Fresh Check Day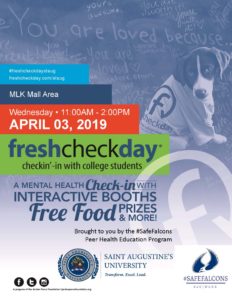 Saint Augustine's University will host Fresh Check Day— a concept created by The Jordan Porco Foundation and designed to bring the whole campus community together to "check-in" on the mental health and wellness of college students. The event is free and has been organized by the #SafeFalcons Peer Health Educators with collaborating campus departments at Saint Augustine's University, student volunteers, and representatives of The Jordan Porco Foundation.
Saint Augustine's University Fresh Check Day will take place April 3, 2019, from 11 a.m. until 2 p.m. The Martin Luther King (MLK) Mall Area will be transformed into an expo-like atmosphere to bring together interactive exhibits combined with food, prizes, and giveaways. The booths feature peer-to-peer messaging in a positive, community-focused setting. 
For more information, please visit the event website.