Phase One of the Saint Augustine's Chapel Restoration and Preservation Complete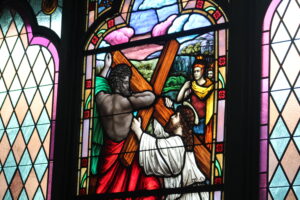 Phase One of the Saint Augustine's University restoration/preservation of its historic chapel (restored, preserved, and cleaned the windows) is now complete. This project funded by the Department of Interior/National Park Service (DOI/NPS), with a $312,000 grant, has afforded us the opportunity to continue to enjoy and appreciate the rich history and exuberant artistry of 125 year-old handmade artifacts. Our sincere appreciation to Epiphany Glass Co. of Front Royal, VA; but even more so, DOI/NPS (our funding source) for a job well-done. On to Phase II, the rehabilitation of the historic handmade cherry wood pews. Stay tuned.
Please take a moment out of your busy schedules to witness this historic event while basking in the glory of our historic chapel's enhanced beauty. "To God be the glory!", Dr. Linda Gunn-Jones exclaims.