Panel Discussion with Raleigh TV and CBS17 and Official Launch of Student NABJ Chapter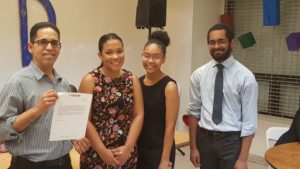 A panel of representatives from Raleigh TV station CBS17 came to Saint Augustine's University on Friday, May 3, to talk about their jobs and give students advice on how to get that first job in the media. The panel included a couple of recent SAU grads, Donald Carey and Walter Colvin, who work at the station.
The event was first sponsored by the newly formed Saint Augustine's University chapter of the National Association of Black Journalists. The SAU chapter was approved by NABJ's Board of Directors on April 20. At the start of the event, Asst. Prof. Dan Holly, the chapter advisor, read a letter from NABJ Regional Director Ken Lemon officially informing students of the chapter's approval.