"Lifting As We Climb" – SAU Volunteers at the NC Food Bank
The SAU chapter of the National Association of Black Accountants (NABA) recently volunteered at the NC Food Bank in Raleigh. They helped sort 17,667 pounds of food and nonfood donations. The sorting categories included water, types of bread, foods in plastic or glass, canned goods, dry foods, sweet snacks, sweet drinks, and nonfood items. After sorting, these items had to be packaged and loaded in designated areas of the warehouse for distribution. By the end of the day, volunteers learned their service will provide 14,722 meals to families in need across North Carolina. This type of community support is just one of the ways these School of Business, Management and Technology scholars embody the NABA motto – Lifting As We Climb!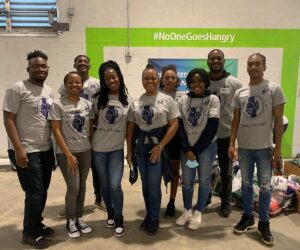 Members in the #NoOneGoesHungry picture from left to right: Emmanuel Bryant, Liane Moyo, Robert Edwards, Ashley Weekes, Asst. Professor Evangeline Brodie, Laurel Rolle, Breanna Dorway, D'Ontre Gilliard, and Dominick King.
——-