Film Fans at SAU Create Falcon Film Club
The Falcon Film Club (FFC) takes flight as a new registered student organization on campus with meetings and programs, including a virtual screening of the biopic film, "Harriet," shown in cooperation with The Falcon Forum Newspaper and RTI International. Prize giveaways and a panel discussion with SAU history and political science professors, Dr. Hasan Crocket, and Dr. Dino Bryant, followed the screening.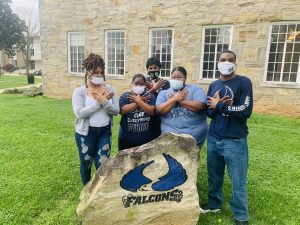 The Club's 2021 officers include (pictured from left) Christina Black (2nd VP); Joi Davidson, (Secretary); Alysa Berry (President); and Kensington Brown, 1st VP); Professor Ophelia Johnson, faculty advisor. Other faculty advisors include Professor Lamont Sparrow and Professor Janet Gustafson.
"We hope to engage our film majors and other students in every aspect of the film world, including the possibility of touring Tyler Perry Studios in Atlanta once the pandemic protocols will allow, it," said Professor Johnson. "African American filmmakers are at the epicenter of Hollywood's shift into a new social and cultural artistic paradigm."
Film Studies is a program within the Department of Media and Communications under The School of Humanities, Education, Social, and Behavioral Sciences with Dean Wanda Coneal. Film Studies offers a major and a minor.
Those interested in joining the film club (all majors are accepted) should email aberry@st-aug.edu or eojohnson@st-aug.edu