Faculty Member, Erin Berry-McCrea, Receives Doctoral Degree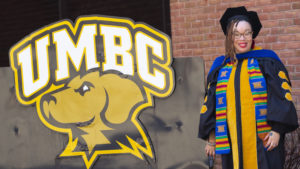 Erin L. Berry-McCrea, Assistant Professor in the Department of Media and Communications at Saint Augustine's University conferred her doctoral degree in Language, Literacy, & Culture on December 19th, 2018 at The University of Maryland, Baltimore County (UMBC) in Baltimore, Maryland. View that story here.
Dr. Berry-McCrea's dissertation research applies digital and media literacy to bring awareness to the online linguistic practices of Black women millennials who create brave spaces to manage professional and social issues unique to their lived experiences. Parts of Erin's project have been published in the research journal Meridians through the article: " 'To My Girls in Therapy, See Imma Tell You This for Free…': Black Millennial Women Speaking Truth to Power in and across the Digital Landscape."
In 2018, Dr. Berry-McCrea was awarded the National Council of Teachers of English (NCTE) Early Career Educator of Color Leadership Award for her work in and outside of the classroom with Black women. This award recognized educators of color in the first years of their faculty careers, providing two years of mentorship and support research development and funding to attend and present at the ECOC Institute in 2018 and the 2019 NCTE Annual Convention in 2019. She is also a 2017 recipient of the Dresher Center for the Humanities Graduate Residential Fellowship at the University of Maryland, Baltimore County and the 2015 Jodi Crandall Fellowship for pre-dissertation research.
A Durham, NC native, Dr. Berry-McCrea relocated back to North Carolina in August 2018 after teaching at colleges and universities in Baltimore, MD for 10 years to be closer to the give back to the community that groomed her in and outside of the classroom.
Dr. Berry-McCrea earned her Bachelor of Science degree (B.S.) in Mass Communication with a dual concentration in Broadcasting and Journalism from The University of North Carolina at Pembroke. She also has a master's in art (M.A.) in Organizational Communications with a concentration in Public Affairs from Bowie State University.
Photo credit: Kenneth Young Photography