SAU Department of Criminal Justice Partners with FBI to Host the FBI Collegiate Academy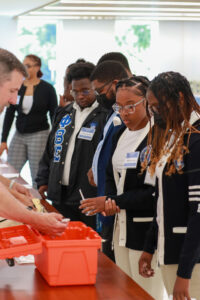 The Department of Criminal Justice recently partnered with the Federal Bureau of Investigation (FBI) to host its Collegiate Academy for SAU students. The FBI Collegiate Academy is an educational program offering students firsthand exposure to the Bureau's mission and providing hands-on learning experiences with crime-scene investigation and evidence-collection techniques. This initiative is part of the FBI's Beacon Project which aims to foster a genuine, long-lasting relationship between Historically Black Colleges and Universities (HBCUs) and the Bureau. SAU students representing the Department of Criminal Justice, the Department of Social Sciences, and the Department of Arts and Communications met with representatives from the FBI's Charlotte, NC field office and had the opportunity to connect with FBI agents and support staff. Among the activities featured during the program, students heard from the Special Agent in Charge, Robert (Bobby) Wells about the FBI's efforts to diversify its workforce. Students also learned about the application process for the FBI's prestigious internship program and participated in a crime scene investigation demonstration where they dusted for fingerprints, investigated blood spatter, and determined bullet trajectory. Students also had the opportunity to hear directly from FBI agents on their career paths leading them to their roles with the Bureau and participated in a robust question and answer period.
"The Department of Criminal Justice at SAU has always endeavored to provide students with meaningful experiential learning opportunities. This program is the latest installment of our ongoing efforts and represents our commitment to ensuring our students receive a premier, elite educational experience in our criminal justice program" said Dr. Jonathan Glenn, Chair of the Department of Criminal Justice. Our students benefited from our latest efforts. According to Dr. Glenn, "The FBI's Beacon Project is an acknowledgment that HBCUs are home to excellent academic programs and talented students with limitless potential."
Professor Renee Robinson, Assistant Professor of Criminal Justice, and Dean James Lyons, Dean of the School of Arts, Social Sciences and Communication, were instrumental in bringing this program to SAU. "The School of Arts, Social Sciences, and Communications remains committed to supporting innovative programming for our students. As we reimagine our vision moving forward, we will continue to prioritize programs like the FBI Collegiate Academy," said Dean Lyons.